Fossil Ridge Cattle Drive - Colorado
[ 7 days, 7 nights ] ............ $1,345.00 Per Person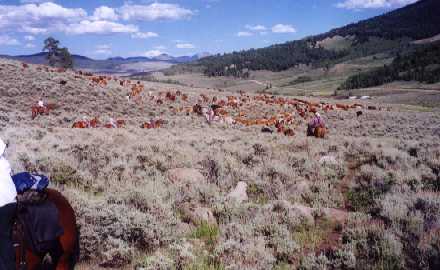 Once In A Lifetime !!
Join up with this award winning outfitter that has hosted outdoor experiences for over thirty years. Be apart of the cattle crew as an "old west cowboy" moving up to 800 head of cattle from the valley ranch land into the splendid high country summer pasture. Help push the heard over a 12,000 ft. mountain pass. The beautiful mountain scenery, the warm sun, and the crisp cool wind will be yours as well as a horse to ride and dogies to punch. Camp out under the stars at night to stay with the heard, just as the original cowboys did. The meals are served by a camp cook which is an experience you'll never forget. HIGH, WILD AND WONDERFUL ! Enjoy 7 days of this regular old-time operation that very few can participate in any more. Make your dream come true, reserve a place for your- self on our cattle drive.

( Begins 1st week of July ) Orientation is at 10:00AM on the 3rd. Get acquainted with your horse
and the others on the drive. It is suggested you fly into Gunnison or Colorado Springs the day before, the 2nd, and you will be picked up at the airport and taken directly to the ranch or overnite accommodations in Colorado Springs and brought to the ranch the next morning. This is not part of your 7 days but is included in the package. Meals on your pre-departure day are not included. You will be back at the ranch on the 10th and taken to the airport on the 11th. Afternoon flights are best.
Photo Gallery