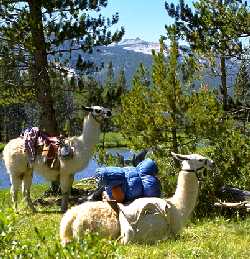 Llama Treks - Colorado

[ 5 days, 5 nights ] .... Durango, Colorado ..... $ 1,225.00 Per Person
[ 4 days, 4 nights ] .... Durango, Colorado ..... $ 935.00 Per Person
MOUNTAIN VEIW CREST ROUTE
WEMINUCHE WILDERNESS - SAN JUAN MOUNTAINS
LLAMA TREK ITINERARY
EVENING BEFORE DEPARTURE:
TRIP ORIENTATION AT YOUR LODGING, Q & A. DISTRIBUTION OF CLOTHING STUFF SACKS, ETC
DAY 1:
DEPART DURANGO COLORADO AT 8AM FOR TRAILHEAD ON MISSIONARYRIDGE. TRANSPORTATION PROVIDED BY THE OUTFITTER. PICK UP LOCATION TO BE DETERMINED. TRAILHEAD LOCATED AT 10,500 FT.ELEVATION FIRST DAY HIKES APPROXIMATELY 4 MILES TO A CAMPSITE AT 11,500 ELEVATION, ABOVE TIMBERLINE.

DAY 2:
BREAK CAMP, LEAVE CAMPSITE BY 9:30AM TODAY WE COVER APPROX.8 MILES. ELEVATION IS CONSISTENT AT 11,500 TO 12,000 FEET. WE TRAVEL TO A CAMP SITE AT TIMBERLINE IN THE TOP OF CHICAGO BASIN.
DAY 3:
DAY HIKE TO VARIOUS OLD MINES IN THE BASIN, OPTION AT THIS POINT TO CLIMB 14,000 FOOT MOUNT WINDOM. RETURN TO DAY 2 CAMP.
DAY 4:
BREAK CAMP AND LEAVE CAMPSITE BY 9:30AM. BACK TRACK ROUTE TO THE TOP OF MISSOURI CREEK BASIN AND DESCEND THE BASIN ONTO THE TIMBER TO A CAMPSITE AT 12,000 FT ELEVATION.TODAY'S HIKE IS APPROX. 8 MILES.
DAY 5:
BREAK CAMP AND LEAVE BY 9:30AM. TODAY'S HIKE APPROX. 6 MILES BACK TO THE TRAILHEAD REMAINS AT ABOUT THE 12,000 FT. LEVEL. WE TRAVEL THROUGH THE TIMBER TODAY OVER LIME RIDGE. ARRIVE AT THE TRAILHEAD AT ABOUT 4PM FOR THE TWO HOUR DRIVE BACK TO DURANGO AND TO YOUR LODGING.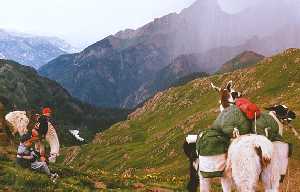 NOTES ON TRIP:
THIS IS ONE OF THE MOST SCENIC ROUTES WE KNOW OF. THE FIRST THREE DAYS OF THE TRIP CROSS TUNDRA ABOVE TIMBERLINE. ALTHOUGH WE ENCOUNTER TRAILS HERE AND THERE, AND USE THEM WHEN THEY GO OUR WAY, MUCH OF THE TRIP TAKES PLACE WHERE THERE NO TRAILS.THIS IS A REAL ADVANTAGE BECAUSE THERE ARE NO OTHER PEOPLE. WE FREQUENTLY ENCOUNTER LARGE ELK HERDS AND THERE ARE DOMESTIC SHEEP HERDS IN THE AREA AS WELL.
ALTHOUGH THE DISTANCES TRAVELED EACH DAY ARE NOT LONG, THE ELEVATION CAN BE A FACTOR.PLEASE READ THE PHYSICAL CONDITIONING PORTION OF THE ENCLOSED PERSONAL EQUIPMENT LIST .
THE TRIP INCLUDES:
PRE-DEPARTURE ACCOMODATIONS, ALL MEALS AND SNACKS BEGINNING WITH LUNCH THE FIRST DAY THROUGH LUNCH THE FIFTH DAY.
PHSYICAL ASSPECTS: Moderate , check with outfitter