Whitewater Rafting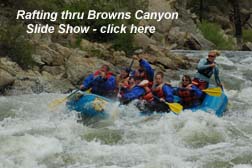 The Arkansas Headwaters - Colorado
[3 days, 2 nights] ..... $630.00 Per Person
[5 days, 4 nights] ..... $835.00 Per Person
Departures: MAY - AUGUST - weekly
What's Included

Transfers from/to Colroado Springs, to launch site
An experienced guide
All river related gear - lifejackets, wet suits, and wet shoes, sleeping bag with groung pad * Hearty meals while on the river froom lunch on the first day to lunch on the last day * Plus more memories than you can handle
* Highly recommended
---
.
The Colorado River - Arizona

Upper Grand Canyon ... [ 6 days, 5 nights ] ... $1,625.00 Per Person

Lower Grand Canyon ... [ 3 days, 3 nights ] ... $ 925.00 Per Person
Departure Dates: May thru August..... call with your dates!
Trip description
---
Departures : MAY thru AUGUST ... call with your dates!
* THE MIDDLE FORK ... [5 days, 6 nights] ... $ 1,695.00 Per Person
Departures : JUNE thru AUGUST.... call with your dates!
Scenic charter flight form Boise to Stanley and return flight from Salmon to Boise.

Pre-depature and post-departure lodging * 5 days & 4 nights rafting.

Ground transportation to and from the river.

Experienced guides

All meals while on the river from lunch on the first day to lunch on the last day.

All camping equipment - tents,sleeping bags, pads,etc.

Taxes and Forest service fees

Orientation dinner
---
The Arkansas Headwaters - Colorado

The Arkansas offers many sections of thrilling whitewater which attract river enthusiasts from all over the world. Themost popular of all the Arkansas sections is Browns Canyon,with its Class III and IV rapids. On the three day, trip, you can experience whitewater raftin g for the first time, which will entice you to return timeafter t ime to this beautiful boulder-strewn canyon. Your participation as a team member is required on this trip, you'll be given a paddle and you are expected to use it. Exciting rapids like Pinball, Zoom- Flume, Big Drop, Seven tairs and Widow- Maker punctuate t he caynon. After the fun of Browns Canyon you can sit back and enjoy the spectacular veiws of the Sangre De Cristo mountain range.Before long, we encounter yet another whitewater section called Big Horn Sheep Canyon. Big, powerful waves with relatively few rocks characteriz e this section. On some of the Class II and III sections of the trip, you may try one of our one- and two-man self-bailing inflatable kayaks,sometimes called Duckies. These "kayaks" are actually long, skinny, one- or two-man rafts, controlled with kayak paddles. With a Duckie you can explore the nooks and crannies not reachable by raft. For those that want to try to try a Class V set of rapids the opportunity will be given to you on the five day trip. Those of us a little less adventurous can stand by and wat ch. Lunches along the river are served smorgasbord style and dinners are cooked over a campfire western style. Vegetarian diets can be accommodated upon request. WET, WILD AND WONDERFUL !!
What's Included::
Transfers from/to Colorado Springs, to the launch site
All river related gear, lifejackets, wetsuits and w shoes, sleeping bag with self-inflating pads, tents, water proof storage for personal items and cameras.
Hearty meals while on the river, from lunch on the fir st day to lunch on the last day.
* An experienced river guide.
---
The Colorado River and the Grand Canyon through which it flow s have captured man's imagination since first being conquered by John Wesley Powell in 1869. For the ultimate in river adventure, we offer the Colorado River and all the major rapids through the Grand Canyon.The majestic splendor of natures' creation seen from the river as it winds its way through Grand Canyon National Park is unmatched an ywhere. A typical day's experience begins with a hearty breakfas t, after which we depart on the raft for river running. Later you will stop for lunch at an interesting beach or side canyon and enjoy buffet style sandwiches,fresh fruit,cookies and candy. The afernoon will be spent river running followed by a great western-style dinner of steak, chicken,stew or ham with all the trimmings. Your trip includes: complete camping equipment, three meals per day, transportation out of the canyon by helicopter. return travel.
---
The Historic "Salmon River" - Idaho

The Most Exciting Whitewater In The Country,
More Interesting Than Rafting Through The Grand Canyon !

The Main Salmon

As the United States' longest untamed, undamned river system, rushing through North America's second deepest canyon, (Grand Canyon is third ) with a gradient of almost twice that of the Colorado, the Main Salmon boasts some of the most famous rapids in North America. Among them are; Big Mallard, Chitman, Salmon Falls, Split Rock, Gun Barrel and many more. The Lewis & Clark Expedition named it "The River of No Return" because its mile deep canyon and raging waters were thought impassable. Enjoy this incomparable wilderness experience with its heavily forested canyons, sandy beaches, crystal clear side streams, grassy mountain meadows and abundant wildlife.

BEAUTIFUL, EXCITING, EXHILARATING, UNFORGETTABLE

Many have called this the finest whitewater river trip available. Choose from a large guide-oared raft, a six man paddle boat or a two man inflatable kayak. A spectacular river, superb meals, personable, well trained and experienced guides, custom designed equipment and an unwavering commitment to quality make the "Main Salmon" trip a must for all river runners. The "Main Salmon" trip space is limited to 24 passengers, so book now for an adventure of a lifetime. Further details will besent upon registration.

Outfitter : Action Whitewater Adventures

The Middle Fork

Plunging through narrow chutes and channels, The Middle Fork of the Salmon River begins in the spectacular Sawtooth Mountains. Each day on the river is filled with natural wonders hot springs, sheer granite cliffs, dense forest greenery and magnificent scenery. Prepare your cameras for incredible photographs of Elk, Big Horn Sheep and Mountain Goats. Be mystified by ancient pictographs and dwellings, still remaining from the prehistoric Indians that once live in this primitive area. Fish, explore, relax or swim in the many hot springs. Fall into the history that surround you and listen as your guide tells tales of the river.

HISTORICAL, MAGNIFICENT, FIRST CLASS ADVENTURE